Miami, southeast of Florida. The Sunshine State. The melting pot. The Latin of the United States. The booze and the sea. And, Miami Dolphins! This glamorous neighborhood is famous for its colorful art deco buildings, white sand, surfside hotels and trendsetting nightclubs with beautiful exotic female dancers dressed up in Miami Dolphins or hurricane attire. As the most-populous urbanized area in Florida, there is just so much to see and experience whether you're a resident or a tourist. One of them being the Miami Dolphins football franchise, famous as Florida's oldest professional sports team.
So, if you're in Miami or plan to visit, then you surely don't want to miss a great football party with your friends here in the Sunshine State. Miami is full of great places to hang out with friends with its array of trendsetting clubs and bars. Even if you're a soloist, you can still definitely bask in the festive mood when you go to the many great venues catering to football party essentials. Not only does Miami have great weather, it has great food, drinks, and pretty ladies like Miami strippers even serving you drinks during the game!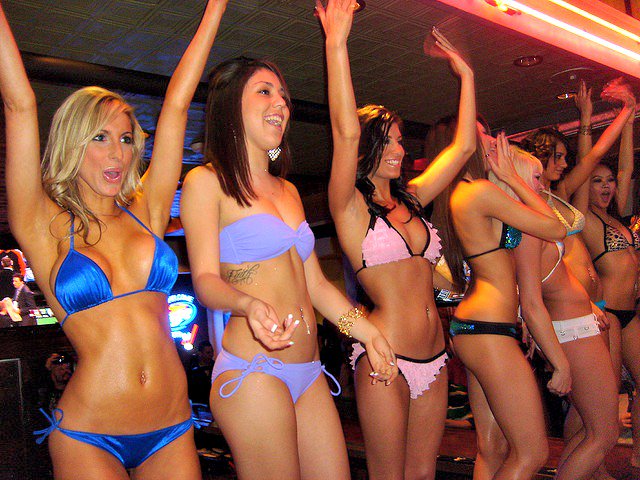 Here are our top 3 picks for where you can have the most enjoyable football party in Miami.
1. Duffy's Sports Grill
Located on 3929 NE 163rd St. in North Miami Beach, Duffy's Sports Grill is the ultimate sports bar to watch a marathon of college and pro football games on the weekends. A place where you can get 2 for 1 drinks (from Goose to Guinness), host a bunch of friends (or your favorite team's watch club), with 201 televisions in the 25,000 square foot, indoor-outdoor location.
2. Flanigan's Seafood Bar and Grill
Looking for a place offering good value for money? Flanigan's does not disappoint! Excelent food, generous amount, topped with great service. You and squad are in for a great party without having to worry about cleaning up. Hop on now to 1479 E. Commercial Blvd., Fort Lauderdale.
3. Burger & Beer Joint
A laid-back pub in Brickell pairing high-end burgers with a plentiful beer selection, plus alcohol-spiked milkshakes located on 900 S Miami Ave St. 130. Order a massive burger and have a good laugh with your folks. What's better, the bar offers vegetarian-friendly menu for (probably) your Californian friends! The service is prompt and the venue offers a super friendly atmosphere.
So, what are you waiting for? Call on your squad, fit everyone in and drive away to any of our top 3 picks for a football party in Miami, grab your drinks, and hopefully you get to watch the Miami Dolphins exercise their great defense skills and have a great discussion with your friends afterwards—if you can stay sober after all that booze.